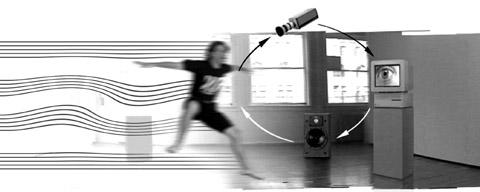 David Rockeby's "Very Nervous System" is an interactive installation that uses a series of cameras and computers to translate the user's movements into musical notes, effectively transforming the human body into an instrument. By 1995, Rockeby had been working on "Very Nervous System" for 13 years, constantly improving the hardware to be as fast and responsive as possible.
"Very Nervous System" is an early example of what happens to the concept of identity when a human being is reclassified as a tool or instrument. When watching the interactions with "Very Nervous System", we see the quick change that comes over a person as they begin to view their body differently. Users begin to explore a wider range of motions, seeing what reactions they can get out of the system. But at the same time, they are really in the control of the machine as they use their body to see what reaction they can get out of it, changing the identity of the user from human to instrument.
Year(s) Created:
1982-1990
Media Type:
Interactive Installation
Artist Statement
Very Nervous System is the third generation of interactive sound installations which I have created. In these systems, I use video cameras, image processors, computers, synthesizers and a sound system to create a space in which the movements of one's body create sound and/or music. It has been primarily presented as an installation in galleries but has also been installed in public outdoor spaces, and has been used in a number of performances.
I created the work for many reasons, but perhaps the most pervasive reason was a simple impulse towards contrariness. The computer as a medium is strongly biased. And so my impulse while using the computer was to work solidly against these biases. Because the computer is purely logical, the language of interaction should strive to be intuitive. Because the computer removes you from your body, the body should be strongly engaged. Because the computer's activity takes place on the tiny playing fields of integrated circuits, the encounter with the computer should take place in human-scaled physical space. Because the computer is objective and disinterested, the experience should be intimate.
The active ingredient of the work is its interface. The interface is unusual because it is invisible and very diffuse, occupying a large volume of space, whereas most interfaces are focussed and definite. Though diffuse, the interface is vital and strongly textured through time and space. The interface becomes a zone of experience, of multi-dimensional encounter. The language of encounter is initially unclear, but evolves as one explores and experiences.
The installation is a complex but quick feedback loop. The feedback is not simply 'negative' or 'positive', inhibitory or reinforcing; the loop is subject to constant transformation as the elements, human and computer, change in response to each other. The two interpenetrate, until the notion of control is lost and the relationship becomes encounter and involvement.
The diffuse, parallel nature of the interaction and the intensity of the interactive feedback loop can produce a state that is almost shamanistic. The self expands (and loses itself) to fill the installation environment, and by implication the world. After 15 minutes in the installation people often feel an afterimage of the experience, feeling directly involved in the random actions of the street.
The installation could be described as a sort of instrument that you play with your body but that implies a level of control which I am not particularly interested in. I am interested in creating a complex and resonant relationship between the interactor and the system.
Exhibition History
1986
"Arte, Technologia e Informatica", Venice Biennale, Venice, Italy.
Centre Culturel Canadien, Paris / Roberson Center, Binghamton, USA.
"ArtMedia 2", University of Salerno, Salerno, Italy.
1987
communications event w/Robert DesRosiers, Bell Canada Studios, Toronto / Ottawa.
1988
interactive performances and workshops at the Banff Centre, Banff, Canada.
interactive dance performance in "Diffusion" at the Music Gallery, Toronto, Canada.
Dunlop Gallery, Regina, Canada (under the name Body Language)
"Siggraph '88 Art Show", Atlanta, USA.
"Féstival des Arts Eléctroniques", Rennes, France.
National Museum of Science and Technology, Ottawa, Canada.
1989
"Invitation to Interactive Art", Kawasaki-shi, Japan.
"Computer Music Festival", Vrije Universiteit Brussel, Brussels, Belgium.
"Art et Ordinateur", Galerie de L'UQAM, Montréal, Canada.
"Beyond Electronics", Open/Access Gallery, Winnipeg, Canada.
"Machinations" at Galerie Christiane Chassay, Montréal, Canada.
1990
"Second International Symposium on Electronic Art", Gröningen, Netherlands.
performance at "New Music America", Montréal, Canada.
"European Media Arts Festival", Osnabrück, West Germany.
Plug-In Gallery, Winnipeg, Canada.
"Kanagawa International Outdoor Art Festival", Manazuru, Japan.
"Rencontres Internationales Art Film/Art Video/Art Ordinateur", Paris, France.
1991
"Ars Electronica", Linz, Austria.
"MuuMediaFestival", Otso Gallery, Helsinki, Finland.
"European Software Festival", Gasteig, Munich, Germany.
1992
"IMZ Congress", the Power Plant Art Gallery, Toronto, Canada.
"Glenn Gould Conference", CBC Broadcast Centre, Toronto, Canada.
interactive sound environments for Ein Sommernachtstraum, Munich, Germany.
"Canada Dance Festival", National Arts Centre, Ottawa, Canada.
"Electronic Expressions.2", Megahan Gallery, Allegheny College, Meadville, U.S.A.
1993
"Futuro Remoto", Mostra D'Oltremare, Naples, Italy.
"Kunstliche Spiele", MedienLabor München, Munich, Germany.
"Conference on Dance and Technology", Simon Fraser University, Vancouver, Canada.
1994
"Berliner Dirigentenwerkstatt", Akademie der Kunst, Berlin, Germany.
"TechnoArt", Ontario Science Centre, Toronto, Canada.
"Corps et Machines", Deuxiéme Biennale de Charleroi/Danses, Charleroi, Belgium.
1995
"In Light of Our Reflection", Tufts University Art Gallery, Boston, U.S.A.
"Oltre il villagio globale", Triennale di Milano, Milan, Italy.
"Net@Works", Centro Nacional de las Artes, Mexico City, Mexico.
"Arte No Seculo XXI", Sao Paulo, Brasil.
1996
"The Presence of Touch", Gallery 2, School of the Art Institute of Chicago
"New Persona / New Universe", Biennale di Firenze, Florence, Italy.
Tempozan Contemporary Art Museum, Osaka, Japan.
"Interactive", Salina Arts Center, Salina, U.S.A.
"Schatze und Visionen", Graz, Austria.
1998
"Giver of Names", MacDonald Stewart Art Centre, Guelph University, Guelph, Canada.
Klangturm St. Poelten, St. Poelten, Austria.
1999
"Comunicacão/Comunicacoes", Porto, Portugal.
Klangturm St. Poelten, St. Poelten, Austria.
"Materiale / Immateriale", Centro Trevi, Bolzano, Italy.
"Cartoombria", Rocca Paolina, Perugia, Italy.
2000
Technopolis, Brussels, Belgium
Bibliography
Cooper, Douglas. "Very Nervous System." Wired.com. Wired Magazine, Mar. 1995. Web. 8 Dec. 2009.
http://www.wired.com/wired/archive/3.03/rokeby.html
.

Rokeby, David. "Installations: Very Nervous System." David Rokeby. Web. 8 Dec. 2009.
http://homepage.mac.com/davidrokeby/vns.html
.


Rokeby, David. Very Nervous System. 1990. Photograph. Creative IT. Creative IT. Web. 8 Dec. 2009.
http://swiki.cs.colorado.edu:3232/CreativeIT/62
.
Rokeby, David. Very Nervous System. Photograph. David Rokeby "Very Nervous System" Media Art Net. Web. 8 Dec. 2009.
http://www.medienkunstnetz.de/works/very-nervous-system/
.
Spoerri, Bruno. Very Nervous System. 1991. Photograph. EMF Institute. The Very Nervous System. EMF Insititute. Web. 8 Dec. 2009.
http://emfinstitute.emf.org/exhibits/verynervous.html
.